LAST CHANCE!
You are cordially invited to attend the:
---

Monday, December 1, 2014
8:00 AM - 7:30 PM
(Includes Luncheon, Networking, and Cocktail Reception)

Venue: The Metropolitan Club
---



You can request 1x1 meetings upon registration
Capital Link's 16th Annual Invest in Greece Forum, "Investing for Growth" will take place at the Metropolitan Club in New York City on Monday, December 1, 2014.
Greece has been going through a time of unprecedented difficulty and change, as the country restructures its economy and strives to embark on a period of renewed growth and stability. A lot of progress has been achieved, but there are still significant challenges ahead. Developments in Greece have far reaching implications for the European Union and the global economy. A delegation of government officials, public and private sector CEOs and executives from global investment banks will discuss the developments and reforms in the Greek economy. Also, the latest trends in the capital and stock markets with topics such as banking and finance, private equity and investing, energy, oil and gas exploration, infrastructure development, telecommunications, real estate, transportation and global shipping will be discussed.
This Forum will provide the audience with a unique blend of informational, marketing and networking opportunities. This December marks the 16 year milestone of Capital Link's commitment to raising awareness about Greece as an investment destination to a wider investor universe.
---
GREEK GOVERNMENT OFFICIALS

Mr. Constantine Skrekas
Minister of Development & Competitiveness
Keynote Speaker at the Luncheon

Mr. Miltiadis Varvitsiotis
Minister of Shipping, Maritime Affairs & the Aegean
Closing Remarks

Mr. Christos Staikouras
Alternate Minister of Finance
Opening Remarks

Mr. Asimakis Papageorgiou
Deputy Minister of Environment, Energy & Climate Change
Speaker on Energy
WEBCAST REMARKS BY



Mr. Antonis Samaras

Prime Minister of the
Hellenic Republic
---
FORUM AGENDA

TOPICS (PANELS & PRESENTATIONS)

Greece, Europe & The Global Economy


The Global Economy – Europe & Greece Current State & Outlook


The Dawn of a New Era


The Prime Minister's Message: "A New Era of Opportunity for Greece" (VIA WEBCAST)

The European Union Message (VIA WEBCAST)


The Government Perspective


The Restructuring of the Greek Economy – Achievements & Targets

The Privatization Program


Sector Panels – Opportunities & Challenges


Telecommunications

The Global Capital Markets & the Case for Greek Corporate Debt

Energy Policy & Objectives

Energy Sector: Trends, Developments & Outlook

Oil & Gas Exploration - Transforming the Regional Energy Dynamics

Greece 10 Years Ahead – Strategy Update

Hellinikon Project – A New Era for Greece

Real Estate Investing & Infrastructure

Putting Greece On The Global Investment Agenda – The International Investor Perspective

Recent Developments in Venture Capital & Private Equity Investing

Greek Banking: Sector Review & Prospects

Greek Banking: Strategy for the Future & Outlook

Greek Banking: Loan Restructuring as a Growth Opportunity

Greece As A Global Shipping and Transportation Hub


Annual Global Shipping Markets Roundtable


The Global Shipping Markets – Opportunities & Challenges






PARTICIPATING GOVERNMENT ORGANIZATIONS

Alternate Minister of Finance of the Hellenic Republic

Deputy Minister of Environment, Energy & Climate Change of the Hellenic Republic

Minister of Development & Competitiveness of the Hellenic Republic

Minister of Shipping, Maritime Affairs & the Aegean of the Hellenic Republic

Embassy of Greece to the United States

Enterprise Greece

European Commission

Hellenic Republic Asset Development Fund (HRADF)

Hellenic Financial Stability Fund (HFSF)






PARTICIPATING CORPORATIONS

International Financial Institutions


Bank of America Merrill Lynch

Blackstone

BNP Paribas

Calamos Investments

Citi

Deutsche Bank

Goldman Sachs

Eaglevale Partners

Eurobank Group

Ernest & Young

Marathon Asset Management

National Bank of Greece

NYSE Euronext

Piraeus Bank

York Capital Management

UBS AG


Global Shipping Companies


Danaos Corporation (NYSE:DAC)

Dorian Gas Ltd. (NYSE:LPG)

Euroseas Ltd. (NASDAQ:ESEA)

Navios Maritime Holdings (NYSE:NM)

Tsakos Energy Navigation Ltd. (NYSE:TNP)

Other Multinational Companies & Organizations


International Monetary Fund (IMF)

A.S. Papadimitriou & Partners Law Firm

ELLAKTOR GROUP

Grivalia Properties

Hellenic Telecommunications Organization (OTE)

Intralot S.A.

Invel Real Estate

Lamda Development

Libra Group

M.A. Angeliadis, Inc.

Machas & Partners Law Firm

McKinsey & Company Greece

Mistras Group, Inc.

NBG Pangaea REIC

Noble Energy Inc.

Oak Hill Advisors

Public Power Corporation

Reed Smith


Media


Bloomberg Radio & TV

Institutional Investor

Reuters

Platts
Registration is by Invitation Only.

Invited Guests include:
Management of Top U.S. Corporations with an active interest or involvement with Greece & The Greater Region · Institutional Investors in Greek Equities & Fixed Income Securities · Portfolio Managers & Analysts · Commercial & Investment Bankers · Financial Advisors & Brokers · Financial Media & Press
---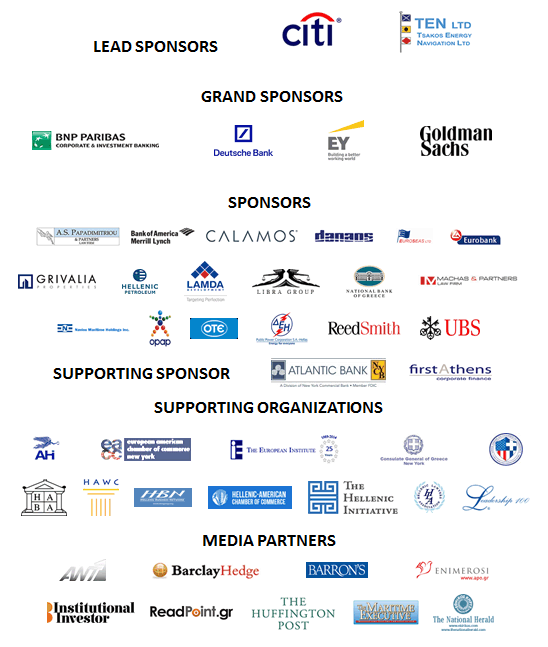 For more information and registration, please visit our website or contact: Eleni Bej, Director of Event Operations at ebej@capitallink.com or +1(212)661-7566 in NY

For sponsorship opportunities please contact: Nicolas Bornozis or Anny Zhu at greekforum@capitallink.com or +1 (212) 661-7566.